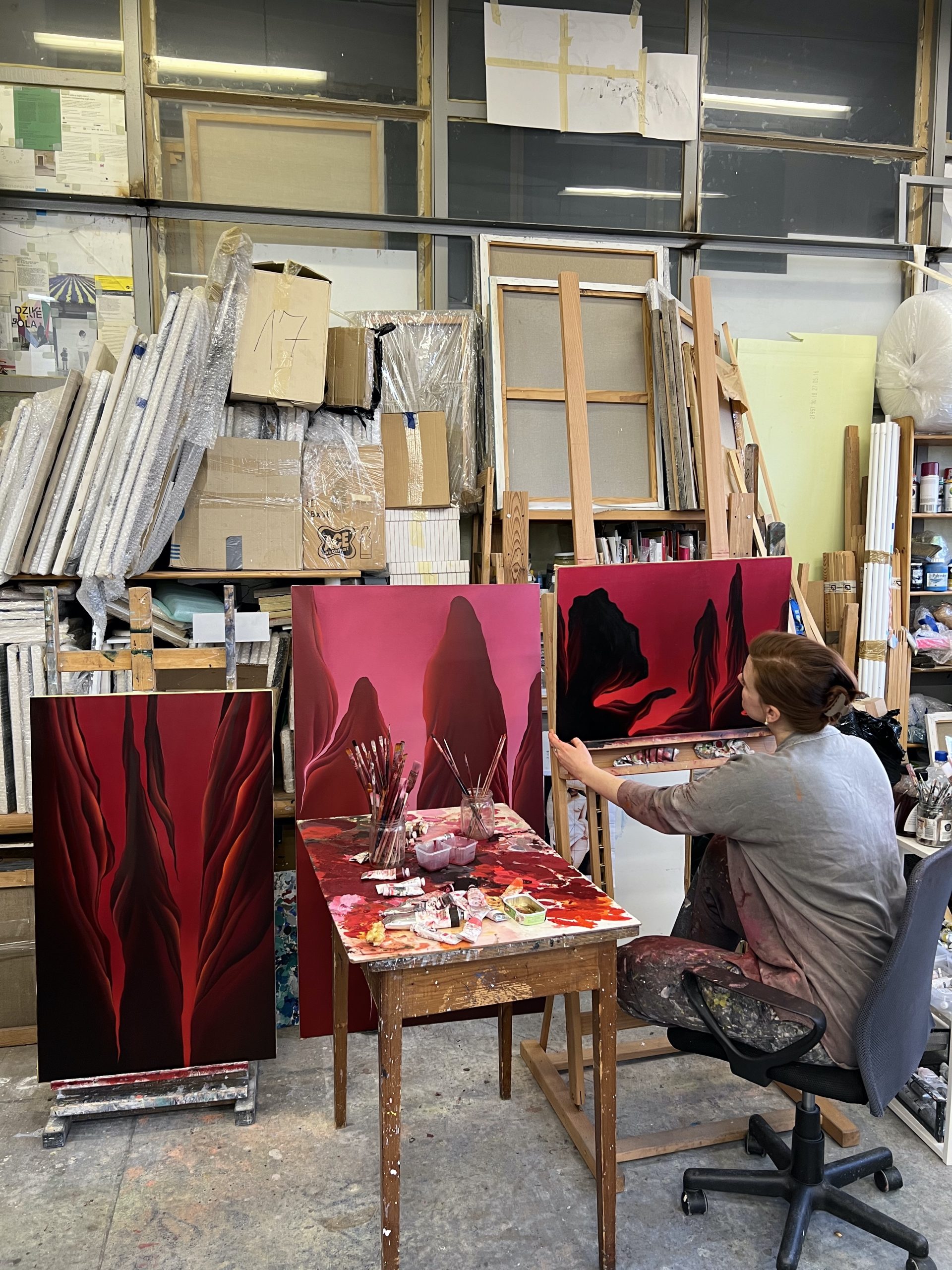 Pilipczuk Gallery is pleased to announce a duo exhibition by Berenika Kowalska (PL) and Margaret Flatley (DE), BEFORE DAWN September 02nd – October 14th. Please readmore about the exhibition here.
Berenika Kowalska was born in 1989 in Lublin (PL). In 2014 Kowalska graduated the Faculty of Painting at the Academy of Fine Arts in Kraków. She has a diploma obtained at the interdisciplinary studio of prof. Zbigniew Bajek. In 2010, she studied at the Academy of Fine Arts in Warsaw in Leon Tarasewicz studio, in an exchange program 'MOST' for the best students. In 2011 she graduated at the inter-Open Studio Fashion Design. Kowalska received a lot of awards for painting, drawing and textile art by the Council of the Faculty of Fine Arts of Kraków.
In 2014, Kowalska received a scholarship from the Ministry of Science and Higher Education. She was selected as one of the artists representing Poland at JCE Biennale 2015-2017 (Jeune Creation Europeenne). In 2017 she received a scholarship from the Ministry of Culture and National Heritage. In 2017, her painting was bought for the National Museum collection in Gdańsk, Poland. In 2019 she participated in Shiro Oni Studio art residency in Japan. She lives and works in Warsaw.
During Kowalska's stay in Japan, she was greatly influenced by the traditional old woodblocks as well as by the Japanese artist Hokusai's (1760-1849) prints of water and smoke. Kowalska has adaptet some of Hokusai's tranquil and calming qualities into her own work. She works primarily with themes inspired by nature. By choosing nature as an object Kowalska works in an unevaluated theme. Thanks to this, one can see something disturbing in a painting, and another person sees something calming – depending on their own perception and experiences. With this the painting grows organically. 
For inquires about Kowalskas work, please contact us via e-mail, phone +45 51261976 or visit us on our gallery location Vesterbrogade 161, Frb. C.