Pilipczuk Gallery is a new established Copenhagen based pop up gallery.
Currently pleased to represent selected female polish artist.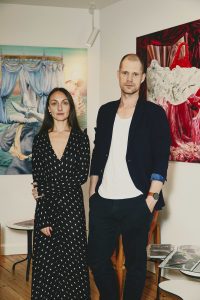 Pilipczuk Gallery. Photo: Emilia Staugaard
Pilipczuk Gallery is founded on the idea of being able to give a platform for both artists and galleries in equal measures. We feel it's important to work closely with the artists by good communication, co-operation and respecting each others work and ideas. We want clients to enjoy their experience within the Gallery and explore the variety of artists we display.
Pilipczuk Gallery is located on Vesterbrogade 176, 4th floor where we host vernissages, art saloons and tailored events. We are a dynamic pop-up gallery and look foreward to collaborating with different artists, themes and locations. Read more about how to visit us here.
Pilipczuk Gallery are currently representing talented polish female artists. The artists we select are at the beginning of their career, and have already shown a huge dedication and ambition throughout their oevre.
Pilipczuk Gallery are pleased to invite you to third exhibition ENLIVENING which will be a group exhibition with selected female artists from Poland. This exciting exhibition will be held at our apartment in Vesterbrogade from the 26th of February 2021. 
If you would like to attend the vernissage please sign up to our newsletter and get your invitation.
Sign up now
By signing up for our newsletter, you will get further information about the artists. Such as interviews, biographies and insights to the process behind the finished works. You will also get information about upcoming projects of the gallery and invitations. We promise not to spam you too much and to keep the information you get interesting and relevant.