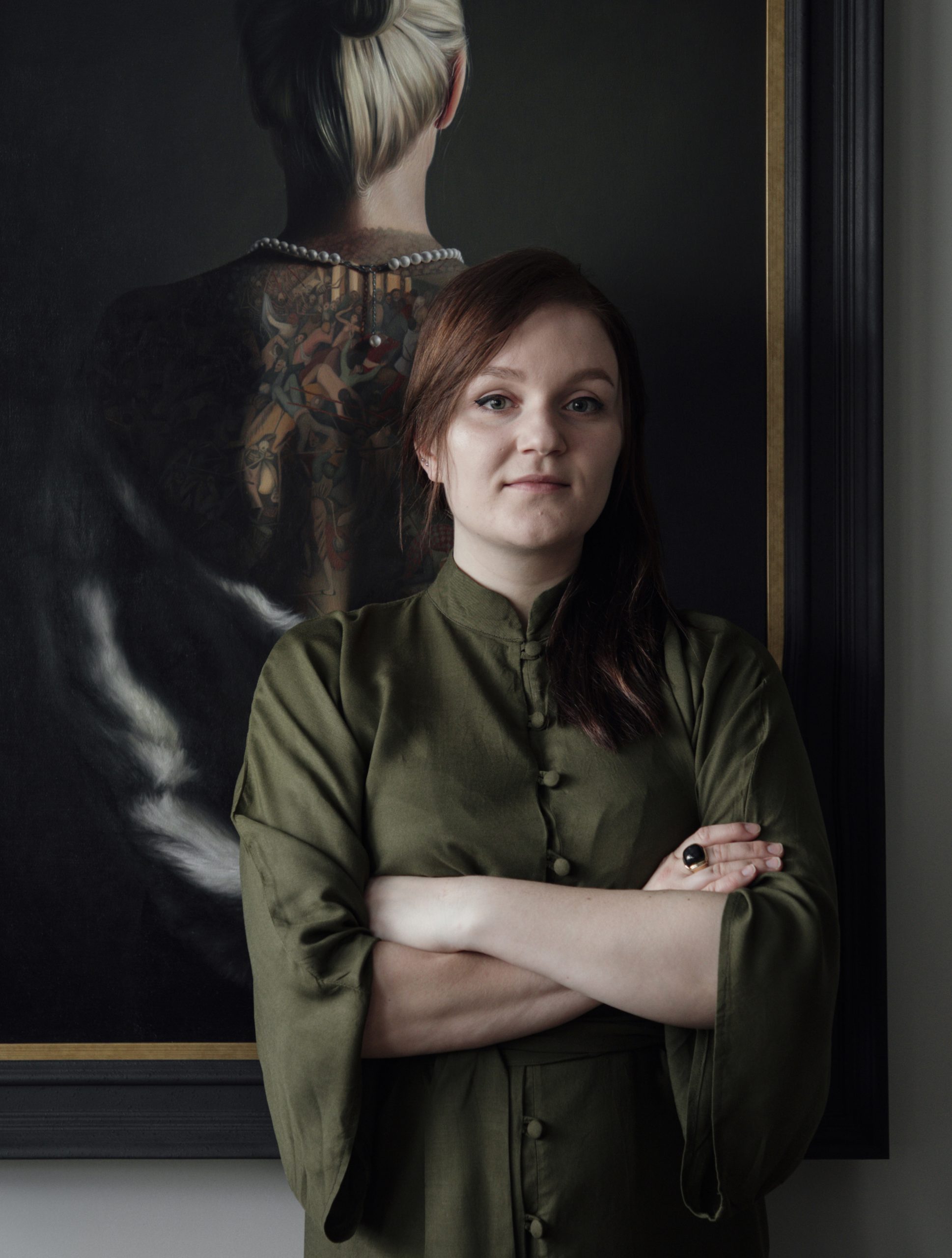 Price List : Agnieszka Nienartowicz
Agnieszka Nienartowicz was born in 1991 in Jelenia Góra, a small town in Lower Silesia, Poland. She studied painting at the Academy of Fine Arts in Gdańsk, where in 2016 she received a Master of Fine Arts. In the years 2011-2013 she studied painting at the Academy of Fine Arts in Wrocław. Nienartowicz has participated in several individual and group exhibitions, throughout Europe and USA. She has achieved many awards and was the finalists of the 14th International ARC Salon Competition, Port Reading, New Jersey, USA. Many of Nienartowicz's paintings are in the possession of well acclaimed art collections, one being a permanent collection of The Department of Museum of Gdańsk. She lives and works in Cracow, Poland.
Agnieszka Nienartowicz's oil paintings lead us into a universe that points back to and re-actualizes the great master painters through art history by reproducing selected parts of their art works in a new context. Her hyper-realistic oil paintings exude sensuality and mystery in a tranquil and intimate setting and her depiction of tattooed women provides a glimpse into a hidden world full of unsolved riddles and secret thoughts. 
Nienartowicz is particular with her motif and chooses them with great care. She uses Christian themes for her paintings, such as sad Madonnas, scenes from The Last Judgment, Angels, Skeletons etc. and pair them with very feminine female bodies:
"I would like to highlight how the place, culture and religion of our origin shapes us and our future. Also, I would like to emphasize femininity and liberate women from the corset of the past." – Agnieszka Nienartowicz
With her unique and exquisite painting technique, Nienartowicz refers and quotes artists such as Caravaggio (1571-1610) and Rogier van der Weyden (1400-1464). Agnieszka's method is, like some of the master painters of the past, based on the technique Chiaroscuro, which is a technique in painting where light and shadow are in strong contrast. Nienartowicz's painted female bodies occur from the shadow into the light and create a specific atmosphere, very similar to the ones of the early master painters. In addition, Nienartowicz exercises exquisite precision and attention to every detail in her works. Her elaborate exactness and mastery of the brush gives a photographic impression of the oil paintings and seduces the viewer's gaze to keep exploring all the elements of her work.