Duo Exhibition by Edyta Hul (PL) & Ewelina Skowronska (PL/JPN)
OF LUST AND TRANSFORMATION
06.12.23 - 17.01.24
'Of Lust And Transformation' explores the connection of nature to feminine energy and the alchemical process behind the creation of artworks. Artists Edyta Hul (PL) and Ewelina Skowronska (PL/JPN) have worked based on an inner need to express their strong connection to the forces of nature and a shared interest in the mystique of the creative process. In their own ways, they work with the material as a partner and co-creator, collaborating closely with each other to define the final expression of the artwork
Skowronska works with various media and is constantly curious about new working methods and materials. Her practice includes ceramics, printmaking, painting, and, most recently, natural plant dyes and silk. Working with natural dyes is a new approach that Skowronska has been exploring since beginning of 2023, and will show the result of it for the first time in the gallery. The new works stem from her inquiries into how we can re-establish a connection to the intangible and invisible aspects of our surroundings, thereby acknowledging our dependence on nature and shedding the anthropocentric perspective. Through her artistic process of working with plants and fabrics she found herself in an almost transformative connection between herself, the artwork, and nature. She describes working with plants as magical, as if stepping into uncharted territory filled with new beings possessing unexpected powers.
"I employ spells and prayers, attempting to adhere to prescribed formulas, but it's not my rationality that guides me – it's my sensibility that springs to life, following the lead of these plants. " – E. S. 
Hul primarily works with oil and enamel on canvas. Her multi-layered paintings are often personal and intimate records of her life. Hul is driven by a desire for technical exploration and is constantly seeking new opportunities through various painting techniques. For this exhibition, Hul has focused on a woman's profound need to reconnect with Mother Earth. Through her works, Hul visualizes a woman's quest for a connection to her roots. Hul is captivated by a woman's intense journey into nature, where she surrenders to its untapped powers, thereby rediscovering her sensitivity, her connection to the natural world, and her true essence.
"For me, nature takes on the character of a deity, which I worship from a feminist perspective, where the creative power is primal, incomprehensible, and lies beyond civilization." – E. H"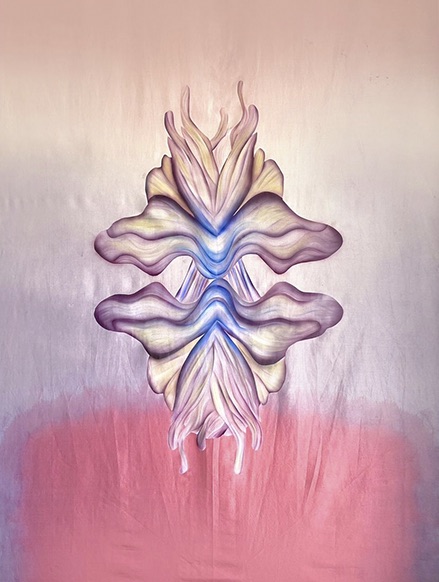 Ewelina Skowronska, Totem series (I), 2023, natural plant dyes, acrylic on silk, 120 x 100 cm
Edyta Hul, Untitled, 2023, Oil and enamel on canvas, 150 x 150 cm
Of Lust and Transformation
"Birth is the absolute limit of the recognition(…). Like everybody else, I have forgotten. I have forgotten myself, but above all I have forgotten everything that lived within me, and continues to live within me." – Emanuele Coccia "Metamorphoses".
Modern culture, with its urbanization and rapid development, has given rise to a peculiar rationality and a specific set of values. In this environment, self-centered individuals believe in their power over everything around them. We have lost sight of our origins and our sense of belonging, all in the pursuit of a distinct "self" that only moves forward, never stops productivity, and is rarely self-reflective.
We have forgotten that our lives are not purely singular, inseparable but complete. We have forgotten that we already belong. We have forgotten our connection. We have forgotten that we come from another being and we are its transformation and variation. We are the infinite links of the vast history of life.
Allow yourself to hear its calling, to feel, and to remember once more.
Whether in the frosty mountains or lonely windy fields, an encounter with a single leaf or a branch, a mushroom or a tiny moss on a cold rock ledge can evoke the abundance of Earth and its eternal journey which unfolds not in a linear way but as a spiral. Life perpetually embodies the rebirth, a constant reincarnation of earthy elements, a fusion of minerals, essence of plants. Life constantly reveals new facets and creates different ways of existing, even from its smallest and most diverse parts.
Birth is not merely a celebration of the new; it is also speculation about the future through an unlimited past. By collecting its new layers after every season dies, it appears again within everything around us and within us.
Each of us, creatures, is like a vessel for the earth.
Can you feel the longing?
The innocent touch of the spring sun, warm and gentle.
The awakening smell of the evening storm, pure, powerful and shivering.
The sound of white snow falling effortlessly, humming its song of the dead?
The lust to survive pulsing under your skin, the animals' echoes in your muscles.
The need to go beyond, to see the unseen, to wake up all senses, to speak together with the voices of millions of creatures that existed before and within you.
The need to be lost, to be covered by the dark, yet still knowing the right way is out there, in front of you, as if you've walked it for a million years.
To embrace, and be embraced, in love, desire, mourning, protection, and temporality.
To allow the Earth to pass through your body, as to carry it elsewhere.
Exhibition text by artist Edyta Hul & Ewelina Skowronska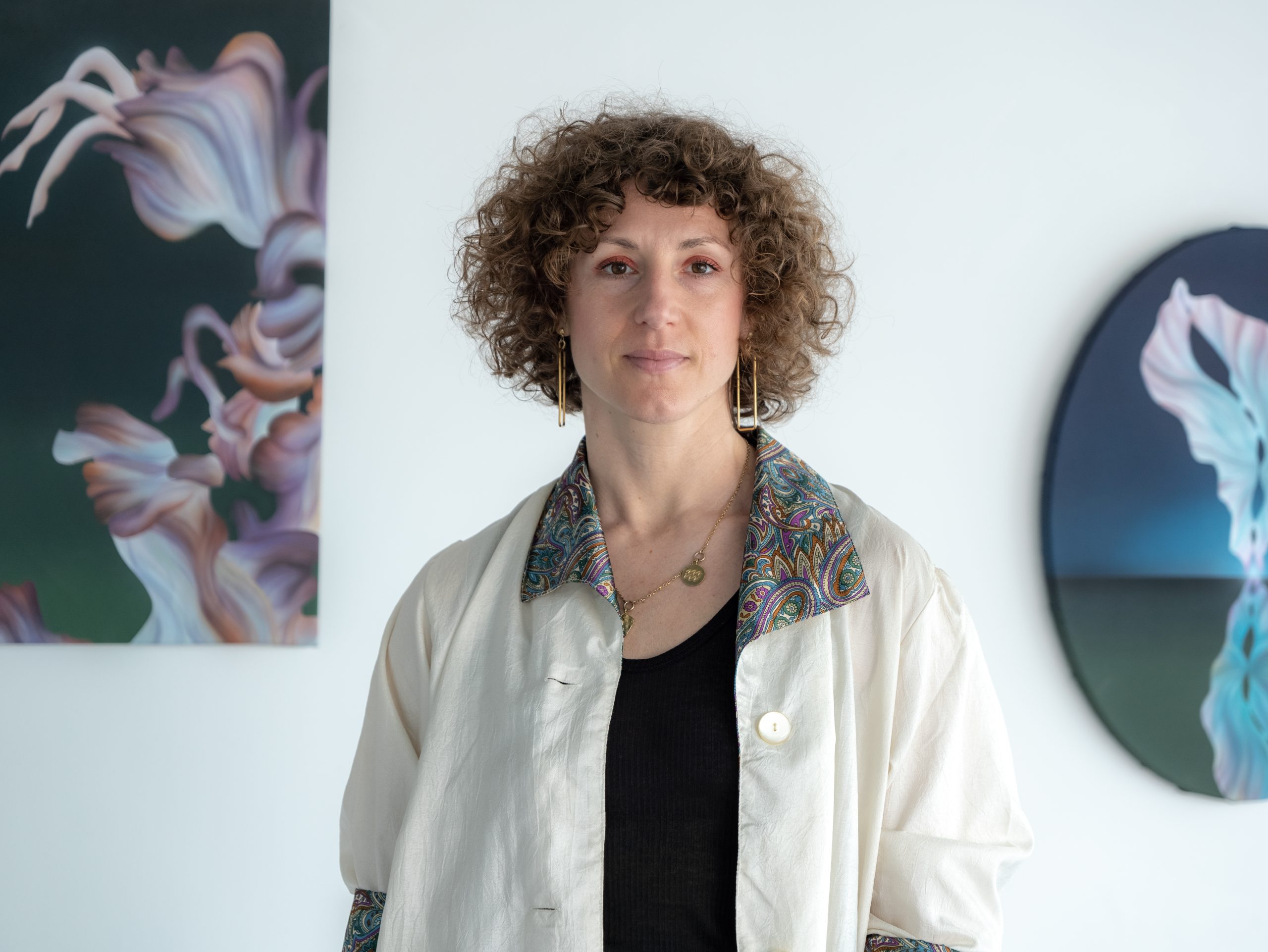 Ewelina Skowrońska is a Polish visual artist with a master's degree in political science. In 2015, she retrained and specialised in fine arts at the University of The Arts London, where she graduated with distinction. Skowrońska's works have been exhibited in London, Ireland, the USA, Canada, Poland, and Japan. In 2017, she was awarded the Print Prize by the ST Bridge Foundation, and in 2018, she was shortlisted for the Ashurst Emerging Artist Prize 2018. Her graphic works are found in the collections of the VA Museum London, Spiral Wacoal Art Foundation, Tokyo, Japan, and Guanlan Printmaking Museum, China. Skowrońska is currently based in Japan, where she actively participates in Tokyo's art scene.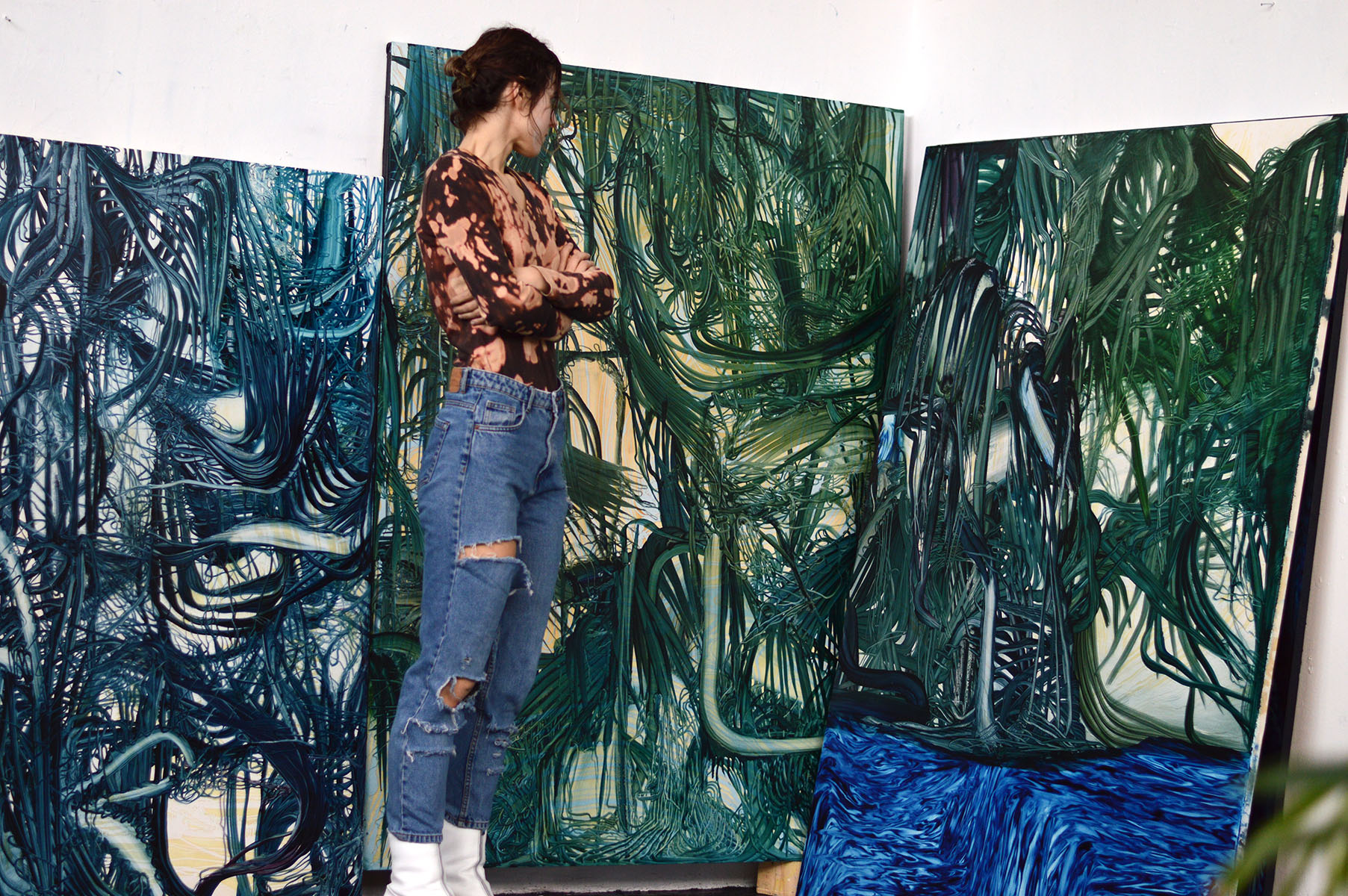 Edyta Hul is a visual artist based in Warsaw. In 2012, she graduated from the Academy of Fine Arts in Gdańsk, Poland. Edyta has participated in numerous solo and group exhibitions in Poland as well as in Italy, Germany, Hungary, and Denmark. Her work has been featured in art competitions and biennials. She is the recent winner of this year's Grand Prix at the 46'th Biennale of Painting, Bielska Jesień in Poland (2023). She has been a resident artist at the Artist in Residence program Q21 at MuseumsQuartier in Vienna (2019) and the Pieńków Artist Residency (2018). Edyta has received scholarships from Poland's Ministry of Culture and National Heritage (2020). Most recently, she presented a solo exhibition at the National Gallery's Zachęta Project Room in Warsaw.