Monika Chlebek
DOG DAY AFTERNOON
08.09 - 20.10.2023
Catalog DOG DAY AFTERNOON
Pilipczuk Gallery are thrilled to represent the solo exhibition by artist Monika Chlebek (PL). Everyone is welcome to the opening on the 8th of September 5PM-7PM. The artist will be present during the whole opening and available for any questions regarding her work.
Monika Chlebek was born in Krakow, Poland. In 2011 she graduated the Faculty of Painting at the Academy of Fine Arts in Krakow. Chlebek has repeatedly exhibited her works throughout Poland, as well as, among others, in Japan, Germany, Austria, Hungary and Italy. In her work, she focuses primarily on everyday life and the elements that fill it. Animal motifs have, in fact, always been an important aspect of Chlebek's art, and for the past few years dogs have been the main focus of her canvases.
Recent times and the situation of having to be isolated due to a pandemic, meant that everyday life was confined to a very narrow space, which the artist shared with her adopted female dog Kola. Kola became the main model and protagonist of these paintings. Her appearance in the painter's life revealed new dimensions to daily living and thus created new sources of creative inspiration, heralding, as it were, one of the main currents in the artist's paintings, to which she devoted a very large part of her work.
The title of Chlebek's first Scandinavian solo exhibition derives from a popular phrase evoking summer afternoons filled with warmth and peace. The term directly refers to the dreamy atmosphere of the warmest days of summer. The artist's latest paintings are a record of a time when the world seems to slow down. It is a moment full of intimacy and closeness.
Chlebek's specific way of painting is extremely evocative. The close, tight frames give the impression that the dogs fill the entire canvas, drawing our gaze in. A deep focus on the fragment is evident here. The artist has often used fragments of the body (including the human body) to comment on current issues. One of the most important aspects of this exhibition is the way Chlebek perceives the relationship between man and dog. Her paintings are not only portraits of animals, but rather a record of the emotions and feelings that connect owners with their four-legged companions. Through the nuances of gestures, glances and facial expressions – of both man and dog – the artist reveals the extraordinary bond that lies in their relationship. This specific form of painting translates into a deep expression of emotion. The rough fur, the delicate hands melting into the fur, the reflections in the dog's eyes – all this creates an atmosphere of intimacy and involvement. All this translates into images that not only show the external aspect of the human-dog relationship, but also reveal the internal, emotional dimension of this relationship.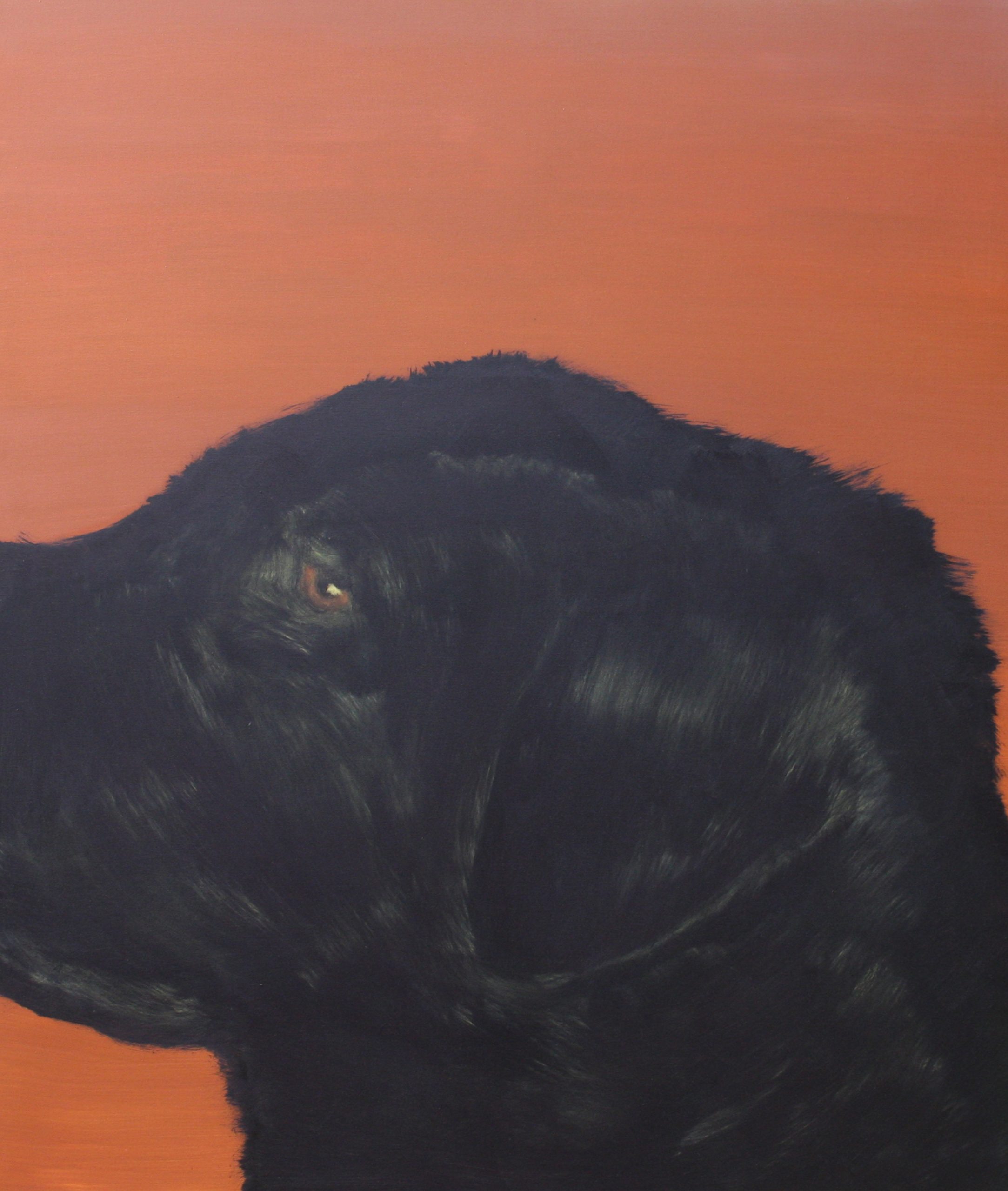 Monika Chlebek, Untitled, 2023, oil on canvas, 125x155cm
Monika Chlebek, photo: Anna Stankiewicz
Monika Chlebek, Two, 2023, oil on canvas, 36x44cm
Monika Chlebek, Touch, 2023, oil on canvas, 20x30cm