Pop-up Guest Exhibition
I FLOR / IN BLOOM
11.05.- 25.05.2022
catalog I FLOR / IN BLOOM
Pilipczuk Gallery is thrilled to present a unique and thriving pop-up exhibition I Flor / In Bloom with the danish artists Thilde Maria Haukohl Kristensen (aka Poppykalas), Mette Hannemann and Johanne Lykke. We invite you to the vernissage with bubbles on Wednesday May 11th at 17:00 – 20:00. There will be a  presentation of the artists at 17:30. The pop-up exhibition In Bloom lasts for a limited period of 15 days and can be experienced until May 25th. 
In Bloom is a life-affirming exhibition that illuminates the artistic attraction in depicting flowers. For several centuries, artists have worked with flowers as forms of expression and in versatile ways have been inspired by the flowers' symbolism, energies, colors and not least their transience. Until the 17th century, the flower motif was primarily used as a surrounding symbolism for portraits or religious motifs. In the Baroque, the flower paintings had their heyday and were reproduced with masterful precision on canvas in the form of Vanitas Motifs and Still Life Paintings. Since then, flowers have materialised time and time again through various artists and artistic media.
For the exhibition In Bloom, the three artists Haukohl Kristensen, Hannemann and Lykke meet in a sensory bombardment with flowers in full focus. Despite the great diversity of the artists, they all deal with the floral motif as their primary motif throughout their oeuvre. For the exhibition, you will be able to experience new oil paintings by Mette Hannemann, paintings and a unique flower sculpture by Haukohl Kristensen as well as something completely extraordinary, the gallery's large windows will be adorned with Lykke's floral motifs.
We are very much looking forward to this exhibition, where we open up to Danish artists for the first time in the gallery's history. We hope you will welcome them and look forward to seeing you in the gallery.
About the Artists:
Thilde Maria Haukohl Kristensen's floral paintings are saturated with oil paint to such an extent that the works appear three-dimensional. Her colors and pompous use of paint provide an experience of awakening all the senses and evoking the desire to smell, eat and feel the images. Haukohl Kristensen makes room for the ultra feminine and embraces sensitivity, femininity and sensitivity with great devotion.
Thilde Maria Haukohl Kristensen (1979) alias Poppykalas, is a floral designer, a visual artist and the creative director of Poppykalas Floral Design Studio (2016). She lives and works in Copenhagen. In her work, Haukohl Kristensen explores the installation, dried, artificial, fresh and textile of the various flowers, and always keeping flowers  as her primary motif. Haukohl Kristensen's works have previously been exhibited at Chart Art Fair, as part of the performance Soil Water Sun, and at the  Thorvaldsens Museum and the North Atlantic Lighthouse in Hanstholm, Thy. In 2022 she was behind the scenography and costumes for the dance performance The Secret Garden at the Glyptoteket and most recently she has participated in the group exhibition U CAN'T TOUCH THIS at Arden Asbæk Gallery.
Mette Hannemann's floral paintings branch back into the motifs of art history's Vanitas motifs. With her paintings, Hannemann captures the wisdom of the past in the most beautiful way and lets it sprinkle onto the canvas with her own unique and recognisable quality. Among other things, Hannemann finds her inspiration in nature and often works with various wildflowers, such as the cornflower and poppies, which she recalls in her works.
Mette Hannemann is a graduate of the Danish School of Design (1984-86) and the Royal Danish Academy of Fine Arts (1986-93). Mette has exhibited at Silvia White Gallery (New York), Kunstverein Coburg (Germany), Galleri Franz Petersen (Horsens), Galleri Veggerby (Copenhagen), Galleri Kirk (Aalborg) and the Spring and Autumn Exhibition at Charlottenborg (Copenhagen). In her work, Mette works at a crossroad between tradition and innovation. She isn't afraid to explore and play with motifs, techniques, colour choices and materials. Her work often contains a glimpse of the masterpieces of the past and she does not hide her inspiration from classic painters such as Gustav Klimt, Edward Hopper or Bonnard. Mette's motifs range widely from naturalistic portraits and figurative elements to more abstract works, where her final result can often lead to coincidental. In addition to painting, Mette works with Royal Copenhagen.
Johanne Lykke creates vibrant and magnificent flower paintings on paper and glass facades. For Lykke, flowers are the epitome of life and therefore an essential and a completely forgiven motif to work with. With the sensuality and feeling that Lykke finds in the beauty of flowers, she wants to nurture the presence of life. The appearance of the stained glass windows depends on the sun ray of light and the time of day. They wander and develop into colourful shadows of the flowers.
Johanne Lykke (b. 1989) is a Danish visual artist who lives and works in Copenhagen. Based on the concept of 'floral feelings', Lykke paints flowers in watercolours and on larger window facades. Lykke graduated from the Jutland Academy of Fine Arts in Aarhus (2015) and studied at Bruce High Quality University and Residency Unlimited in New York (2014). She has lived and worked in Berlin and New York and her work has most recently been included at Sophienholm Art Museum (2020), Copenhagen Business School (2021), Arden Asbæk Gallery and My Foundation / Martin Asbæk Gallery in Copenhagen (2021).
Johanne Lykke, Painted window, 2022, paint on glass, (by commission)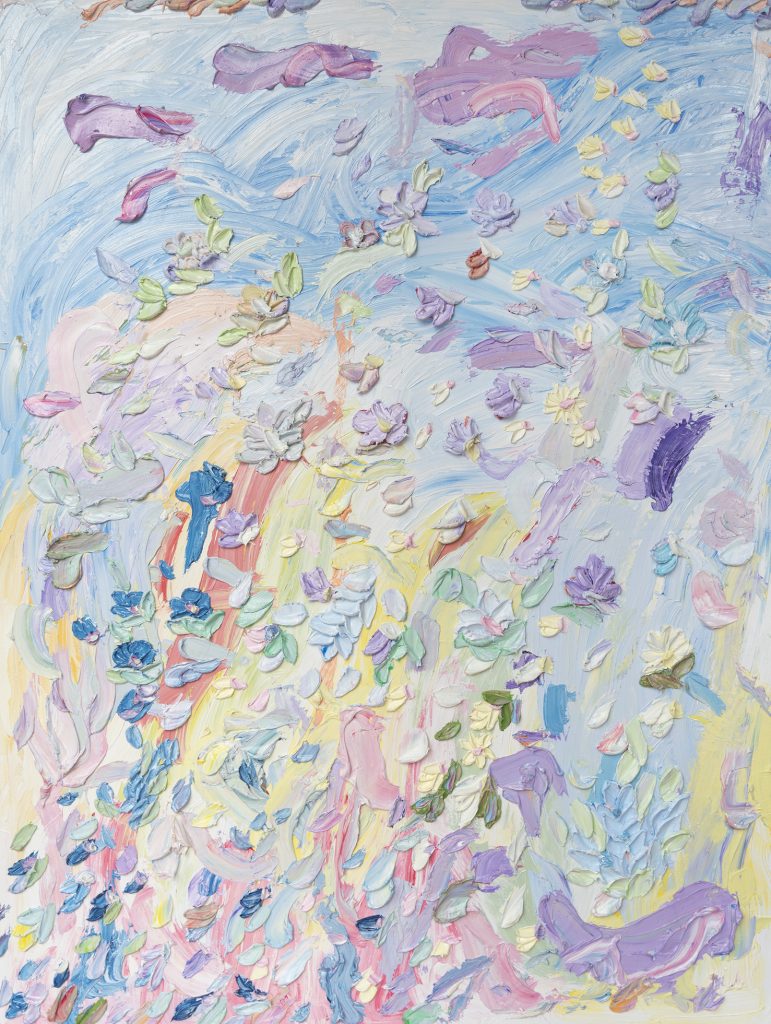 Thilde Maria Haukohl Kristensen (alias Poppykalas), Let your ego dissolve, 2021, Olie på lærred, 175 x 140 cm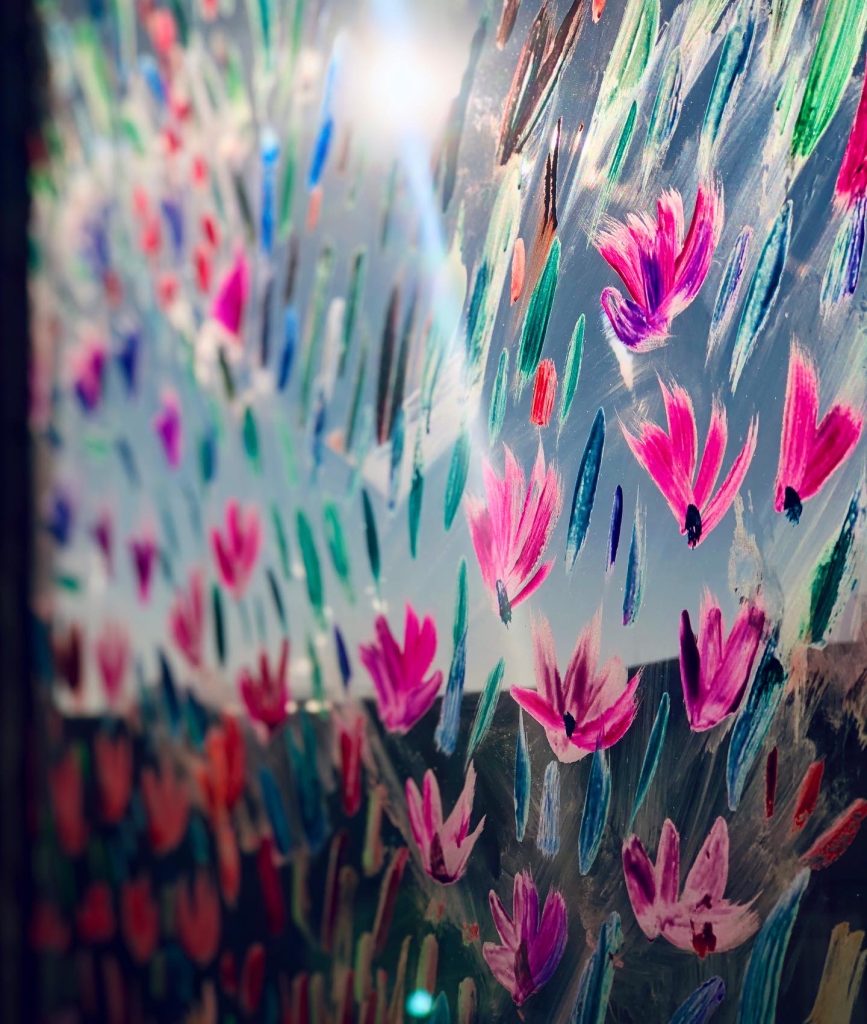 Johanne Lykke, Painted window, 2022, paint on glass, (by commission)
Mette Hannemann, I Flor, 2022, Olie på lærred, 120 x 100 cm